Shaw Industries Employee Loses Limb in Accident, Shares His Inspirational Story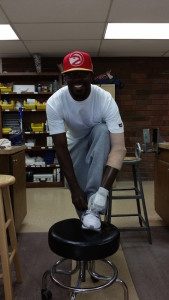 Shaw Industries uses high-tech, complicated machinery in daily operations. Jeff Lawson is an employee who worked for 5 years at Shaw Industries and received several promotions up through the ranks before he suffered an accident.
His maintenance technical certificate helps him with his responsibility of keeping the machines running smoothly on a daily basis.
Jeff's accident occurred in an instant while on the job. Because of this accident in 2008, Jeff lost his arm. It was a debilitating and discouraging accident he suffered. He spent a month in the burn center for treatment. During this time and when he was discharged, Jeff was worried about how he would provide for his family and make a living again.
Thanks to Georgia Prosthetics, Jeff has a fully functional prosthetic arm. Georgia Prosthetics helped Jeff get his life back. With the help of his prosthetic arm, Jeff continues to provide for his family, make a living at Shaw Industries, and help his family on a daily basis. He also says that he was treated like family at Shaw Industries instead of just an employee.
Shaw Industries recognizes Jeff as a superhero. They are proud to have him on their team, and he is an inspiration to many. Below, we share his story with you.
Posted by Georgia Prosthetics
1947 Briarwood Ct NE, Atlanta, GA 30329
Phone: 404-873-3725