How to Prevent Blisters When Receiving a Prosthesis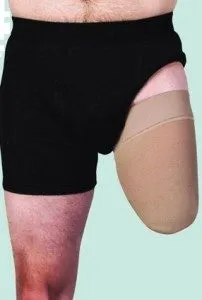 Getting a new prosthesis is a great way for amputees to continue living the life they've always wanted. We take great pride in the fact that our patients can do everything from moving around the house with ease to running marathons. One thing that can hold you back from enjoying life, however, are painful blisters.
While blisters may not seem like a serious medical problem, they can become extremely painful. Every step becomes difficult and even resting can sting. Blisters can also extend recovery time and cause serious infections.
For all these reasons and more, amputees should never ignore blisters.
It starts with getting the right fit
Not having the right fit is where many problems associated with a prosthesis begin. A standard leg and prosthetic foot is connected to your residual limb by a socket. The socket fits over the residual limb and is often where friction occurs, thus causing a blister. The most common socket types are suction, vacuum, and pin lock.
By placing some type of additional layer or liner on your residual limb you can create a barrier between your skin and the socket. The liner protects against blisters, provides cushion and comfort, and can enable a better fit for the socket.
If you find that your prosthesis is not fitting properly or you are getting blisters, then it is important to speak with your prosthetist immediately. He or she can evaluate your prosthesis and make any required adjustments to ensure a good fit that helps prevent blisters.
Don't forget to care for your prosthesis
Caring for your prosthesis properly is another great way to help prevent blisters. There are several things you should do:
Remove your prosthesis each night before bed. Don't forget to check the device for loose parts or damage, and inspect the stump for blisters, sores, or irritation.

Clean the stump, apply some lotion, and massage the skin around the stump.

Place a bandage on the stump to decrease swelling when you are not wearing the prosthesis.

Practice the exercises given to you by the physical therapist.

Clean the prosthesis' socket with soap and water.

Don't forget to talk to your prosthetist to learn how to best care for your prosthesis.
Act if you notice irritation